With childhood obesity rates continuing to soar, parents are taking a good, hard look at the foods their children are being offered during the school day. Although Tobey Maguire's two children aren't yet school-aged, he's also taken that look, and is expressing a concern about what he sees.
In a letter sent this week to U.S. Representative Nancy Pelosi (D-Calif.) and U.S. Senator Tom Harkin (D-Iowa), Tobey urged lawmakers to reexamine the standards set by the Child Nutrition Act (CNA). The legislation — initially passed in 1966 – is poised for Congressional re-authorization this fall, presenting a "golden opportunity" for change according to the 34-year-old Spider Man star.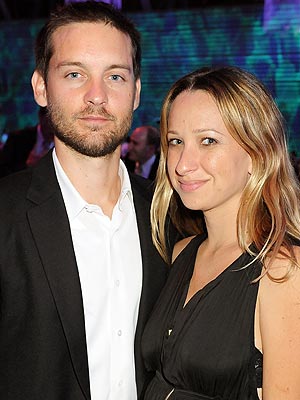 Jeff Kravitz/FilmMagic
More fruits, vegetables and low-fat vegetarian meals are needed, Tobey writes, noting that "school is tough enough already — students shouldn't have to put up with lunches swimming in fat and cholesterol."
Tobey goes on to cite a recent article by the Chicago Tribune, which revealed that Chicago public schools serve beef nachos everyday because the federal government's commodity foods program "dumps surplus beef on schools across the country."
Not only would a vegetarian meal be more healthy, it might actually cost less than a higher-fat alternative, according to Tobey.
"Being overweight can be a miserable experience for children. It affects their grades and sets them up to be unhealthy adults."
Urban school districts stand the most to lose for students in low income families are at a greater risk for hunger, qualifying them for the National School Lunch Program which feeds 30 million children each day.
It is particularly worrisome, then, that these same children are facing skyrocketing rates of obesity and related diseases like Type 2 diabetes according to medical experts.
Even if you live in an affluent district, however, you can still feel the effects. Tobey writes,
"Higher rates of obesity, heart disease and diabetes mean greater healthcare costs for everyone. Healthy foods can help prevent those problems, so federal dollars spent on better school meals are a smart investment."
Ruby and Otis are Tobey's children with wife Jennifer Meyer Maguire. To contact your legislators about this issue, click here.